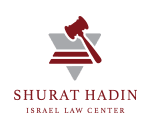 Based in Tel Aviv, and directed by attorney Nitsana Darshan-Leitner, Shurat HaDin works with Western intelligence agencies, law enforcement branches and a network of volunteer lawyers across the globe to file legal actions on behalf of terror victims.
Students Supporting Israel (SSI)
Students Supporting Israel is a rapidly growing Zionist international campus movement that supports the State of Israel. Founded at the University of Minnesota in early 2012 by Ilan Sinelnikov and Valeria Chazin, it currently has multiple chapters across the United States, Canada, Mexico, and Argentina.