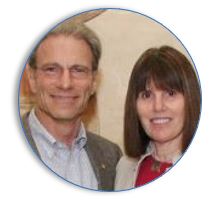 Rita Emerson is on board of directors of the Emerson Family Foundation, an organization that supports the various counter- jihad groups and causes. Rita has worked for many years as an information specialist at the National Cancer Institute's Cancer Information Service hotline at UCLA. Rita holds a master's degree in public health from California State University, Northridge
Steve Emerson has been a portfolio manager specializing in micro-cap–growth at reasonable price securities (GARP) for the past 45 years. Steve received his BA from UCLA and his MBA from USC.
As venture philanthropists, the Emersons evaluate and invest in organizations that have major impact in their areas of interest– pro-democracy and pro-Israel activism. Founders of the StandWithUs Emerson Fellowship, which trains college students to educate their campus communities about Israel, the Emersons are also heavily involved with such organizations as NGO Monitor, Electric Infrastructure Security Council, Israel Missile
Defense Association, FDD's Iran project, and others. Rita and Steve Emerson were asked by Newt Becker to be board members of his charitable trust and are currently serving in that position.